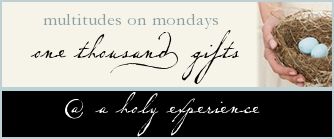 Hey there! This week I've added 10 more things to my list making this #6-15. Here we go…
…I'm thankful for:
God being always with us!
The awesome food at Wilderness Lodge's Whispering Canyon.
Being almost done with algebra two!
The cool, free, drawing classes at Disney's Hollywood Studios.
All of the plants that have grown back from last winter.
All the beautiful topiaries that Epcot has for its International Flower and Garden Festival.
Hearing strains of the sweet songs the birds are singing.
Starbucks being on the way home from church. (they have great lemon loaf)
A dad who, sometimes just by being in a room, can make a computer work. (Really! He just walks within a foot of the computer and it works…no joke!)
That people (like you!) are coming to my blog!